On the subject of picture  framing jigsaw puzzles, it must be said that there must have been, and still must be, hundreds of people putting together
puzzles together right now all over Australia. Our various statal, work and home restrictions, lockdowns and quarantines have pretty much driven a lot of people bonkers with boredom.  And since ennui and accidie are the enemies of our naturally wandering,  imaginative and creative minds, it is little wonder that so many of us have sought some relief from this depressing state of mental affairs by tiling, assembling and solving puzzles.  Interestingly, jigsaw puzzles have been around for about 250 years. The commercialization, if not the creation, of jigsaw puzzles is commonly ascribed, if not credited, to an 18th century cartographer, John Spilsbury.  One of his first prototypes is shown below:
Encouraged by the success of his geographical "dissected maps" Mr Spilsbury set about to commercialize his invention and the rest, as they say, is history.
This pastime has enjoyed high and lows in popularity since its invention and introduction.  In its many shapes and forms, it has always been popular with persons held, confined or being in isolation, seclusion, quarantine, confinement or retirement, whether voluntary or involuntary, such as the current COVID-10 restrictions and quarantining.
It may not be that well known to the general public that puzzle building has boomed once more because of the current pandemic. And it's probably even more poorly known that, once Customers completed their jigsaw puzzles, picture framers have had a boon of a time framing them.
That brings us to the subject of this topic, picture frames for puzzles.  Most dissectologists ( persons who assemble and solve puzzles ) are not only careful and patient people, they're also thrifty. And a thrifty disectologist is often parsimonious with framing puzzles. He or she will most often search for inexpensive ready-made picture frames so as to frame the puzzle him or herself.
And here the puzzlement starts. To begin with, puzzles sizes more often than not refer not to their finished sizes for picture framing, but to the of number of tiles these comprise, say 1,000, 2,000, 3,000, 4,000, 5,000 and even much more.
This is of course, not very helpful when one goes to department stores' photo frames and picture frames department and sees mostly European A1, A2, A3, A4 Series size frames which may or may not have their centimetric dimensions displayed.
It is also not always wise to rely on the measurements listed on the puzzle box, often these are too small, too large, inaccurate or wrong. Relying solely on these might cause the buyer to buy a picture frame than won't quite fit, or fit al all.
Another issue, is the thickness of the puzzle tiles, around 2 to 3 mm which is a lot thicker than most documents, art, or photographic papers, this being about 1/10th of a millimitre.
It follows that there can be problems in trying to mount and fit a completed puzzle into a standard or, ready-made frame.  In all likelihood, this will be because the flexible tabs that are usually driven into the back of the frame may not be strong, flexible or long enough to grab the thickness of the puzzle tiles, meaning that the back of the frame can't be closed.
Coming back to sizes and measurements, the online store whence one bought a puzzle from mightn't always a reliable source either. A lot of puzzles shipped from the U.S.A are odd-sized, and over the States, they still measure and make most art media and materials in Imperial measurements.
If you are unfamiliar with these, it can be difficult to make sense of inches and the fractions thereof.  The images below show, halves, quarters, eights, sixteenths, thirty-seconds and sixty-fourths of an inch, though higher fractions are often used in engineering.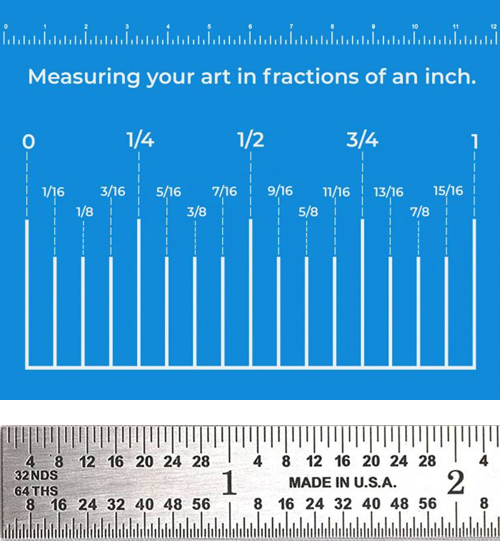 And even if the puzzle dimensions are rounded to nearest half-an-inch as in the chart below, there still won't be many, if any at all, ready-made or off-the-shelf puzzle frames or picture frames. A typical puzzle size chart example shoiwn below, from a large US supplier,  provides no sizes that suit local, standard size picture frames.
That said, there are some puzzle manufacturers that do manufacture in common and also standard picture frames sizes though this seems to be in the minority of cases, here are some examples:
Imperial ( U.S.A. ) sizes :
| | | |
| --- | --- | --- |
| 336 pieces | 12 x 18in | 305 x 457mm |
| 504 pieces | 16 x 20in | 406 x 508mm |
| 672 pieces | 18 x 24.5in | 457 x 622mm |
| 1000 pieces | 20 x 28in | 508 x 711mm |
Metric, International, A series sizes :
| | | | | |
| --- | --- | --- | --- | --- |
| 1362 pieces | A1 | | 594x841 mm | |
| 1000 pieces | A2 | | 420x59 mm | |
| 300 pieces | A3 | | 297x420 mm | |
| 116 pieces | A4 | | 210x297 mm | |
But, if a puzzle isn't one of the sizes above and it's not of a standard size, where does one get a frame for it?  The answer is that in just about every case they will have to go to picture framer and arrange to have a custom picture frames made.
But before deciding which picture framing shop to go to get the job done, many Customers usually want at least a couple of queries answered. A first one is, will the picture framer want to frame a puzzle? Not all picture framers want to, or can, frame jigsaw puzzles. Some do decline because this art is often unstable, difficult and awkward to work with.
The second one is, how much is it likely to cost? So far as we are concerned, it's no problem at all for us for the first query.  As to the second one, puzzle picture framing price estimates are easily and quickly doable with our Picture Framing Prices Estimator.
After having settled on a picture framer to do the job, the next task is, how to and carry and transport a completed puzzle and land it safely on to the picture framing shop's framing counter.
While there are many accessories and products that can be bought online, often a simple, inexpensive, flat, MDF panel or cardboard sheet will do fine, so long as one is careful not to spill the tiles!
Now, let's imagine that our imaginary Customer is standing at picture framer's counter with his or her completed puzzle and engaging in a picture framing consultation. During the discussion as to how to and what with frame the puzzle, a professional picture framer will almost certainly explain, or at least mention, that this type of art needs to be permanently mounted onto a stiff, rigid and durable backing board, usually a MDF sheet, although white cardboard panels are sometimes used.
This mounting process is absolutely necessary to prevent the puzzle tiles from sliding, moving, buckling and falling of and breaking up the puzzle up because there's nothing to hold them into place.  However, if the puzzle is financially, emotionally, historically, or otherwise, valuable, then permanently mounting it is not recommended and an art conservator or professional curator should be consulted for archival, conservation, or museum framing.
On the subject of mounting the puzzle, some Customers are able to, or prefer, to do so their own mounting by availing themselves with various puzzle glues, contact papers, mod podge or other adhesive tape and backing products found online.
While DYO puzzle mounting is fine, sometimes our framers are presented with sticky, messy, lumpy or half-stuck puzzle assemblies which are more laborious and difficult to frame. At other times  the home-made, DYO gluing or mounting is unstable or fails as soon as handled, as per  the example below :
Largely because of this imperfect, partial, irregular or incomplete mounting problem, we suggest that puzzle users and lovers let professional picture framers mount their puzzles.
Some Customers ask us how do we do it.  We explain to them that to mount puzzles, or most art for that matter, perfectly even and flat, we use the cold-mounting, vacuum press method  which permanently bonds a picture flat to a backing board.
in our picture framing experience, mounting a puzzle isn't that much more difficult than mounting a poster. However, care, experience and a pair of steady hands are required when turning the puzzle upside down in preparation to gluing the backing board.  This is because the mechanics are very similar to those of flipping over the tortilla below:
If either the right, or the left hand loosen or break the hold, even for a second, then the whatever is being flipped will slip, fall and come down crashing to the floor.  This flipping operation, while simple, is easy enough to get wrong, so, let us do it for you!
Once the puzzle is flipped over, the backing board can be laid over it, vacuum pressed, and voila' the mounted puzzle is now ready for framing. The frame to be chosen to go around the puzzle is a matter of personal choice as there are literally hundreds of mouldings ( frames ) to choose from.
An interesting aspect with the picture framing of puzzles is that about half the Customers we frame puzzles for don't want theirs glazed. The reason for this, they explain to us, is that glazing will make the framed puzzle look like a print or a poster, because glass reflections tend to hide or obscure the puzzle joints.
On the other hand, when a puzzle is framed unglazed, the tile joints are more prominent and more clearly visible thus making it more quickly recognizable as a completed puzzle. As for the tiles moving, bending, buckling or falling out, that doesn't happen to the jigsaw puzzles we frame because we mount them properly and professionally.
Once the puzzle is securely and permanently mounted, making a frame for it is no more difficult or complicated then cutting a frame for a poster. And while most jigsaw puzzles are framed unmatted, window matting is an option, though of course, this will mean a higher cost, because the frame will be larger and extra materials and work will be required.
Different glazing options are also available. Clear float glass is the most popular one, though UltraViolet (UV) fading protection glass is occasionally ordered.  As it is evident, the overall tenor of this post is for Customers to have their jigsaw puzzles custom framed, rather than try and frame these themselves in ready-made picture frames.
The main reason for this is the score of Customers who have come to us upset and frustrated with their prior puzzle framing experiences. Many had already visited craft or art shops and departments stores and either bought, or were sold, cheap, inferior or unsuitable off-the-shelf frames.
In the majority of cases the store frame and Customer's puzzle was not a match made in heaven. And just as often, Customers wasted not only their time but also their money.