So you want a gallery frame?  Once more it was a Customer's inquiry that germinated the composition of this post.  A city Customer rang us up and asked us for a price quotation for a "A0 size gallery frame".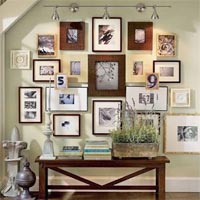 We asked what she meant by "gallery  frame"  she replied that she didn't know but she thought we would know, hence this post.  Well, the short and sweet is this:  it's not a particular or specific size, colour, finish or framing style that makes a picture frame a gallery frame, but rather,  how and where  it's going to be used.  If it's going to be stood on its easel on a desk or table, or hung on a wall its own,  or just with another or  couple of other frames, then it's not really a gallery frame.  On the other hand, if it's going to be hung and clustered and congregated together with several other frames on the same wall, then it will form part of a gallery and hence, be a gallery frame.
The gallery frames on gallery walls trend is not a new invention, in fact, it's hundreds of years old.   It seems to have begun in Paris, in the late 16th century, where new graduands of the Royal Academy of Arts had their portrait paintings hung from ceiling to floors.
This new portraiture arrangement caused a pleasant visual shock and was received as a chic sensation amongst royal circles and courtiers,with many wanting to imitate and create their own gallery walls, or salon walls. In varying forms, styles formats and arrangements, this innovation has continued and lasted to this day, in homes, museums, exhibitions and it's not a passing fad that will wither and fade away any time soon.
Let's now explore this further and see how we may add any art, including textiles, posters, prints, photos, objects, curios, postcards, or anything really,  simply by framing it and hanging it up together with other frames, as a collection, so as to create an elegant and yet homely,  gallery wall. We might begin,  for instance include a family member's counted cross-stitch framed with a  50x50 cm white square shadow box wood frame which would beautifully enhance the wall of any family home.
In addition, and almost de riguer for any home gallery wall,  or walls for that matter,  is to add one or more framed wedding photographs. Below is our popular  A3 to A4 black wood matted picture frame which  incorporates that timeless and elegant , contemporary, black picture frame and white window mat combination.
Another popular feature is the appenditure of someone's  testamur, or other professional qualification as displayed in the example below showing a Griffith University degree award framed in an A4 Ashwood certificate frame. These off-the-shelf, A4 Certificate frames in a handsome, middle-tone teak finish are popular and easy to fit up ready for display.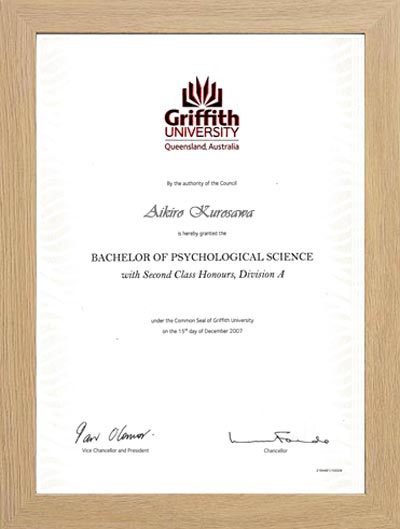 Again cherished inclusion is the hanging of any child's, or children's,  artwork. As most parents know, children of all ages, but especially young ones, are particularly prolific in creating all sizes and shapes of art.
Starting from kindergarten all the way to primary school they delight us with almost daily, new and wonderful creations which, they learn to insist,  that we parents  frame and put up  over the house.  Below is a such an example of our top-selling 12"x18"  white wood poster frame, a favourite with mums.
Definitely worth considering is the inclusion of any family event with pets with a fine example depicted below of a lovely family photograph taken with the family dog and framed in one of our  one of our economical,  A3 silver matted photo frame with an A4 size photograph.  Dogs are the most popular pets, followed by cats and horses.
Other items frequently attached to home gallery walls are originals, most often by a family member with an artistic flair, inclination or background.  This can be a watercolour, oil, gouache or acrylic painting, an etching, a limited edition or any kind of original art created by hand.  Below is a Norman Lindsay Facsimile Etching "Saraband" framed in an A2 with A3 opening wood poster frame.
If buying or using commercial ready-made  poster frames, or mass-produced off-the-shelf picture frames,  users need to be aware that these may be unsuitable for framing fine art. This is becaues ther  unless the art is protected by barrier paper or other acid-free or museum materials or strata to avoid acid migration.  Additional information on this  subject is also topic is encompassed in  conservation picture framing.
Always worthwhile hanging alongside other family mementoes is a print, postcard, flyer or poster of holidays past. Many are the Customers who bring in to us their cherished paper posters or prints saying that they bought them during some memorable holidays they have had and want to frame and hang them so as not forget the good times. Below is very modernistic New York skyline holiday remembrance lithograph framed in one of our elegant 18"x24" natural wood poster frames with clear glass.
Surprisingly, maps are often incorporated into many domestic gallery wells. These are often world maps but can encompass nations, states, regions, counties, boroughs, quarters, suburbs, rural holdings, buildings or urban houses, to name but a few locations and sites. Below is large example of an an antique map  of the city of Melbourne framed in of our Customer-favourite  A0 black wood poster frames with clear glass.
We must also not refrain from mentioning the picture framing of embroideries, cross-stitches and tapestries, which are just some of  the many types and kinds of textiles that we have framed over the years and, we are told, often  take pride of place in many a home. Photographed below is a humoristic , counted cross-stitch, stretched and framed with a 40x40 cm white wood shadow box.
Invariably also sighted on homely, family a gallery walls are personal photo collages, more often than not these being of the elementary family.  A popular example is shown under here, of a happy-go-lucky family snapshot framed in one of our well-like,  8"x10", 3-in-1, black wood collage photo frame.
And no home gallery wall would feel complete without a poster of one's favourite Australian Rules Football team.  The Collingwood football team poster below i shown frame in one of our top-selling, 18"x24" black wood poster frame with clear glass.
Perhaps a last, but not least, appendage of favourites to home galleries is the casual photograph framed in a frameless glass clip frame.  While clip frames have been around for much less than galleries, their usage has besome very popular abnd widespread, in fact just about every home seems to have one or two on its walls. Below is a lovely example of an A3 frameless glass clip frame framing a young family member during a festive occasion.
The examples could go on but we think that the contents thus far provided in here  will suffice and serve well enough to explain that a gallery frame is but a picture frame grouped together with other of the kind or ilk on one's home wall, or walls, for that matter.