We venture to say that at least every household has some shadow box picture frames hung on
a wall that will make the beholder sniffle, if not cry, in a happy, emotional response.  Typically the framed item might be a photograph, a note, a document or an object marking or commemorating a birth, a newborn wristband,  cast of baby hands or feet, a christening,  a school report or something and anything just as close or as dear to a family's heart.  This brings us to one inescapable truth of life, all children will eventually grow up, and become adults.   And adults love their birthdays, just as much as children  ...    do.  So, what gifts can parents give to their adult children who already seem to have everything under  the sun?
A very good answer is: shadow box picture frames with framed memories!  But since folks might find it a little hard to come up with ideas,  we've put together a small list of memory picture frame suggestions to make this project a little easier. And before you all throw up your hands up in the air in financial terror and cry out " Memorabilia framing is too expensive !!" we ask you to wait a little, read on and hear us out.
Yes, we do agree that framing memorabilia can be a somewhat expensive affair.  However, instead of suggesting expensive custom shadow box  picture frames, memorabilia framing, or object framing,  we've put together a list of various of D.YO. shadow box framing suggestions which, we know and have seen, that Customers have been able to do themselves.
1st Suggestion:  A  newborn baby hand, photo and foot memorabilia shadow box picture frame shown below could well cost in excess of $500, depending on where one goes to have one made. And if conservation or museum framing is specified, this cost could easily double, if not triple, without exaggeration.
However, and with a little time and some ingenuity, a very similar result up could be achieved using our 5″x7″ (3-in-1) White Wood 3-D Frame & Shadow Box (mats suits 13x18cms art) with clear glass.  And the cost you will ask?  At the time of writing,  a mere $22.50, excluding delivery, if this is required.
Of course, you'd need the mount ( or fix in position ) the objects with a heat gun, silicone gun, craft glue, or similar, but these are relatively inexpensive accessories purchased at larger craft and hardware stores.   We supply many hobbyists, artists, amateurs and Do-It-Yourselves with these and other similar 3-Dimensional and or shadow box frames .
These shadow box picture frames are used not only for baby memorabilia but also to frame objects as diverse and as varied as sea shells, corals, sea stars, insects, scrabble tiles, buttons, bottle caps,  matches, thimbles, rings, coins, stamps, spoons and many other 3-dimensional memories and or collectibles.
Some of the Customers who buy these frames from us often chat to us about the work that they have done and are doing.  Not only do they enjoy what they do but they often derive an income from their hobby.  That said, most people ought to be able to make do, especially when incentivized by the great savings in buying an off-the-shelf, 3-dimensional frame,  against a bespoke one, or a custom picture frame.
2nd Suggestion:  Most of us parents know that children, especially older toddlers, often get quite attached to their favourite footwear, be these shoes, sandals, runners, slippers or something else.  The natural wood, shadow-box, framed slippers example below could well cost around $500 if custom framed and much more for specialist conservation framer to frame them.
This type of specialized framing is not usually requested by Customers as it is generally regarded as unnecessary and unaffordable. However if these were the original, 1939,  'Wizard of Oz", Dorothy's  ruby slippers, reputed to be worth more than a  a million ( USD not AUD) dollars, then yes, you wouldn't don't buy an off-the-shelf frame, instead you'd go  directly to an expert conservator who would either arrange, or undertake,  the construction a conservation museum frame.
Luckily, with one of our A3 to A4 natural, shadow box frames costing  ( at the time of writing ) a derisory $24.80, this project now look quite affordable! It should be noted that with these frames, both  the window mat and the inner spacer are removable.
This enables a hobbyist, or user, to position and re-position, the supplied window mat either right down the bottom ( as shown in the below product image ) of hard up against the glass, as shown in the image above of the framed slippers above.
3rd Suggestion:  Frame a memento of a seaside weekend, or beach holiday, with older children or early teenagers.  Many are the parents who have bemusedly watched their youngsters fossicking about pools,  rockpools and beachshores, bringing back all sort of things or objects, such as shells, corals and bits of driftwood or sea creatures even.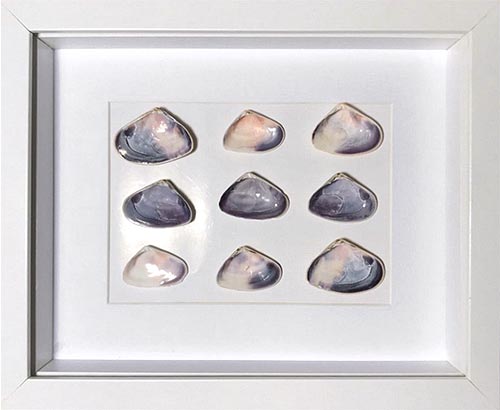 As shown in the illustration above, such a memento could be relatively easily be created with one of our inexpensive 11"14"  White Wood Shadow Box Frame with 8"x10" clear glass. This picture frame is shown directly below here.  All that is required is for the shells to be clean and dry so as to be mounted with a glue gun,  epoxy resin, or a spot of Araldite, even, and the frame is ready for re-fitting, no tools needed.
4th Suggestion: Again, for perhaps older children, or precocious ones, the framing of a memorable scrabble game board that the family played together, maybe on a cold and dreary Melbourne winter, is a project well worth considering.  One of these memory shadow box picture frames is depicted by the photograph below, spelling a family members' names.
The framed scrabble board above could easily be replicated using our 40x40 cms White Wood Square Frame & Shadow Box frame. This is because scrabble boards are generally 38.1 x38.1 cms and the 40x40 cms frame does come supplied with a removable, white window mat which can be trimmed and re-sized and used as small filler in between the board and the frame itself.
5th Suggestion: Yet another favourite is the shadow-box picture frame of a child's favourite toy, or figurine,  in this case,  Thor and  Mjollnir, his hammer.  Alternatively, the frame could just as easily hold a little girl's role-model, or figurine,  Elsa,  Wonder Woman, or whomsoever the fictitious, favourite heroine might happen to be.
Our 22x22 cms 3-dimensional black box frame has a working depth of 1.5 cms and is an ideal candidate for this or other similar projects.  However, if a greater depth is required, perhaps for a figurine of larger girth, then our shadow box picture frames, with deeper  depth of 2.8 cms can come to the rescue and accommodate  thicker, bigger, or chunkier objects.
6th Suggestion:  Frame a certificate of proficiency,  a skills award, a recognition record, a course completion or other sporting or personal achievement attestation which has personal or emotional significance to a child, regardless of age, gender or inclination.
This should not pose no great difficulties because most children engage in some sport,  ball code or physical activity throughout their later childhood years. Think of Little Athletics, swimming,  soccer, netball, football, tennis, cricket, boy scouting,  girl guiding, etc., the list can go on.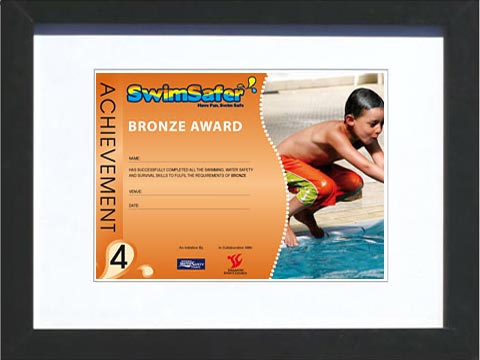 Documents such as the one shown above may mean a lot to a child.  For instance, the above A4-size,  swimming  award can be easily and inexpensively framed with a standard size,  off-the-shelf frame,  such as our  A3 to A4 black matted frame.
This frame, which is shown below, already comes with a white window mat and has easy, openable, flexible tabs at the rear of the frame for the insertion of documents. It can be oriented, and hung,  either landscape, or portrait, via its saw-tooth hangers at the back. No hand tools are necessary and no fitting or servicing by a picture framer is needed.
7th Suggestion: Keeping our thinking cap on,  another worthwhile project would be to frame a son's or daughter's sports competition medals, an example of which is the mounted array shown  below.
Once mounted on a backing board, the medals could be fitted to one of our  30x30 cms square, white 3-dimensional  box frames  These almost indispensable decor box frames are cleverly constructed with removable, inner spacers and white window mount. They have clear glass, a removable backing board and a printed facepaper which, if reversed, is completely white.  Customer often use this paper as a background against which attach or mount lightweight art.
8th Suggestion: Every parent knows how many drawings and paintings children churn out at child care, kindergarten, pre-school and school.  Most of them get stuck on the fridge door with those magnetized advertisers' business cards that tend to clog up our letterboxes. However, once in a while our little darlings create and bring home a piece of artwork that makes you sigh,  wonder and appreciate their childish or youthful  candour, spontaneity, beauty and innocence, as yet unsullied by adult ways, habits or standards.
The artwork above was framed with one of our A3 Silver matter frames with A4 opening which features an acid-free, standard size A4 window mat.  A window mat is important when framing original artwork, be this from a famous artist or a would be, 8-yearold, budding Clitfon Pugh.  The mat helps to keep the glass away from the art, drawing, or sketch. Its construction and function are more fully explained as a guide to window mats and its size and dimensions are further detailed in mat designs and proportions
9th Suggestion:  Quite a few are the children who are initially repelled by bugs, insect and the like, only be reacquainted with them years, or some time later, and even going so far as adopting entomology  as a favourite pastime  or hobby.  Below is natural colour, or ash, wooden square shadow box frame which has a lovely collection of  ( apparently ) male and female scarab or stag beetles.
And below here is a 50x50cms natural shadow box frame which can quite easily accommodate the above arrangement, and not just with beetles, but also with moths, bees, butterflies or other, similar-sized insects.
10th and Last Suggestion:  We kept this one for last because it's also one of the most popular ones, and that might well be a photograph of little ones at kindy, pre-school, or school.  Just about every parent has some of those lying about in drawers, window sills or tucked away amongst books.  Many school snapshots are also impromptu and of mundane activities. As such the frames for these do not need to be expensive. The school photograph below is framed in a very affordable and economical  clear glass frameless clip frame:
And below is the A3, clear glass,  frameless clip frame which suited the happy snap above to a tee. Clip frames have been around for decades and are very popular in Europe and, to a lesser extent, here in Australia. These come in a variety of common sizes, from the smallest, 4"x6" clip frame, right up to the large, our A1 frameless clip frame:
By way of an ending note we will add that pretty much anything and everything can be framed when one sets his or her mind to it.  And with the art becoming more and more digitized, so are its printing possibilities.  Additionally, many Customers are able to download large files and satisfactorily scale them to standard sizes such A0, A1, A2, A3, A4 and so on.
This evolution brings many advantages and, pertaining to picture framing, the capability of Customers to print to photographs, or any art really, to suit popular picture frame, or photo frame, sizes. These sizes are generally mass-produced, and therefore, considerably cheaper than bespoke, or custom-made shadow box picture frames. There will always be however, a need, even if it's only an occasional one, to have art custom picture framed.
That very special wedding photograph,  hard-earned University degree or grandfather's World War II's medals are often best custom framed rather than just put in a ready-made frame.  And to that end, to know more about custom picture  framing  prices,  please visit our Picture Framing Prices and Custom Picture Frames Costs Estimator.