Tasmanian Raw Oak Box Frame
This style of timber moulding (frame ) shown in this Custom Picture Framing Gallery has very much come to the fore during these last few years. It has a modern, natural, industrial look much favoured by daring, avant-garde, interior decorators.
This native, Australian-made moulding comes in a variety of widths, heights and sizes, and is quite variable in shades, tints and overall tones. Quite often a moulding stick will reveal knots and resin streaks thus adding a natural character and beauty to this attractive, natural material harvested from sustainable forests in Australia.
As its name implies, this frame is made from raw mouldings, meaning that the timber is not coated, gessoed, foiled, painted or otherwise finished. Therefore and because of this variance, it is often difficult to make several frames, or a series of picture frames, all having the exact same tint and shade of colour, finish and appearance.
Tasmanian Raw Oak Picture Frame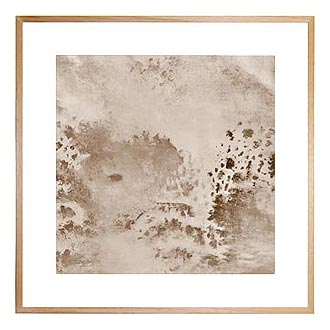 Making these picture frames and photo frames shown in this Custom Picture Framing Gallery is highly rewarding, if not a labour of love. Often the raw moulding needs a little hand sanding to clean transit detritus and or to reduce shade and tint contrasts.
This native material is the same as that of the Tasmanian Raw Oak Box Frame. The main difference is that is a picture frame rather than a box frame. This means that the width of the moulding is greater than height, or the opposite of a box frame where the height is greater that the width.
As its name implies, this frame is made from raw mouldings, meaning that the timber is not coated, gessoed, foiled, painted or otherwise finished.
Therefore and because of this variance, it is often difficult to make several frames, or a series of picture frames, all having the exact same tint and shade of colour, finish and appearance.
Shabby Chic Picture Framing
Years ago no one would have been caught dead with worn-looking frames on walls but now, and as shown in this Custom Picture Framing Gallery, it's all the rage! Picture framing mouldings are now available with scuffs, undercoat spots, worn-paint appearances that are quite clever.
The wear-and-tear finishes can vary quite dramatically but, generally speaking, the overall appearance of the frame is white, beige, cream or off-white, while the undercoat is often tan or brown.
The pattern of the wear is often irregular and picture framers often have to match several sticks of moulding to give all four sections of a frame a more regular, or balanced "feel".
This is one of the reasons why shabby chic picture framing is often more expensive than framing with regular, or conventionally-finished mouldings. Another reason is that many of these mouldings need to be hand-finished, rather than machine-finished and the higher labour cost is reflected in both the wholesale and  retail prices.
AFL Football, or Footy Jumpers Framing
This is a sentimental favourite with many Australian sporting families. Any of the various AFL or VFL football guernseys or jerseys can be framed as shown below. We hand-stretch ( no glues or tapes with us! ) the jumper over an acid-free, inner biscuit and then hand-pin the stretched jumper to a white backing or background to hold it into place.
We then cut a window mat, shadow-box space it accordingly, and finally fit the assembly into a black frame. This is the most common arrangement and, at the time of writing, costs $275. While this price may seem expensive, it is well worth having a football jumper custom-framed properly because its financial value or re-sale potential will not be diminished.
Many are the rare, and valuable football jumpers we have had to re-frame because burned badly with acidic materials or simply stuck into a cheap, do-it-yourself, kit frame with glues and tapes which tainted and damaged the wool, fabric or cloth.
Floater or Floating Frames
This is really an old framing design revived. The photo, or canvas art is first stretch-framed and then framed over with a  'floater' frame which is "L" shaped like a steel angle bar.
The stretch-framed art is then fitted inside the floater frame and finished ready for hanging. This makes the art look as though it is "floating" inside the floater frame, because it is smaller. Floater frames come in varying styles, shapes, sizes and colours.
This framing technique is somewhat more expensive than other normal techniques because the framing processes involved are double to what is normally required, and hence, double the cost.
For the first framing process, there's the stretch-framing cost, and for the second framing process, there's the making of a float frame cost to be added. That said, the end result of a float frame is impressive, unique and well worth the extra cost.
Stretch-Framing of Canvases
While the painting on canvases and the stretching of  these with artist stretcher frames is a centuries-old practice, the printing of photos or prints on canvas and the need to strain or stretch-them, is relatively new. Technically speaking, commercial stretching is done with strainer frames, however most people don't need to or see the difference, so they ar called stretch-frames.
These frames consist of 4 wood sections, usually pine, joined together. If the art to be framed is more than 1 metre, many framers also add gussets to the corners or brace the middle to ensure that the frame does not twist or bend while being worked upon. When the frame is dry, after a few days, the art is stretch-stapled, by hand, over the 4 sections of the stretcher framer.
Stretching is usually done from the centres and working outwards.  It takes a few years' experience for a picture framer to master the art of successfully hand stretching canvas. A properly stretched canvas will be perfectly flat, without sagging or rippling.
Photo Frames and Picture Frames Wall Grouping
Again, this is another old decor idea recycled. Many will remember their parents' or grandparents' lounge rooms walls filled with family photo grouping.
While the family is still an important subject of groupings, nowadays other art is included in groupings and the style of the frames is also different. In the past.
Whereas in the past one would see Aunt Mary's wedding photo framed in an antique Bird's Eye Maple hanging alongside one's baby sister in a mock-baby frame,  one now more often sees more uniformity in both colours and frame styles.  For instance, black and white groupings are quite popular.
In these combinations, all picture frames are the same colour, width and height regardless of the art size. The window mat is also of the same colour and width for all the frames, regardless of size. Another popular arrangement
is the all-white one. Needless to say, this pattern requires that frames and window mats be white.
And while you are here …
Our photo frames, picture frames, frameless clip frames, football display cases, basketball display cases, and other product ranges can be found online by making Google , or Bing searches. For custom picture frames and custom picture framing price quotations, please use our free, easy and fast Prices Estimator.